Deus Ex Machina
Art & Design
THE HYBRID HAUTE COUTURE OF IRIS VAN HERPEN
It is an exciting time to be a designer. So many new technologies with as-yet untapped possibilities. So many other fields and disciplines to draw from and interact with. So much knowledge, experience, information and inspiration at our fingertips. And so much more acceptance for blurring boundaries between fields, skills, genres and epochs. These contemporary conditions have allowed the imagination of the extraordinary Dutch fashion designer Iris van Herpen to run wild in the world of haute couture – a discipline where precision craft traditionally meets the finest of materials.
That van Herpen comes from a dance background, she studied classical ballet until she was 18, is clear in her clothing creations. There is a delicacy and sense of intrinsic, flowing movement – both real and implied – to each of her kinetic creations. Her dresses both hug and surround the body, generating dynamic and yet protective space around the wearer, enhancing their natural movement. But this movement is also not necessarily human. She doesn't work with fabrics so much as filigrane skeletal structures made of materials such as glass, metal lace, iron filings and silicon. The results are reminiscent of radiolarians or leaf skeletons infused with tech and a hint of science fiction: think of the advanced species of deep sea aliens in James Cameron's 1989 classic "The Abyss", but also Alex Garland's 2014 sci-fi thriller "Ex Machina" all stirred up with a little bit of elven magic.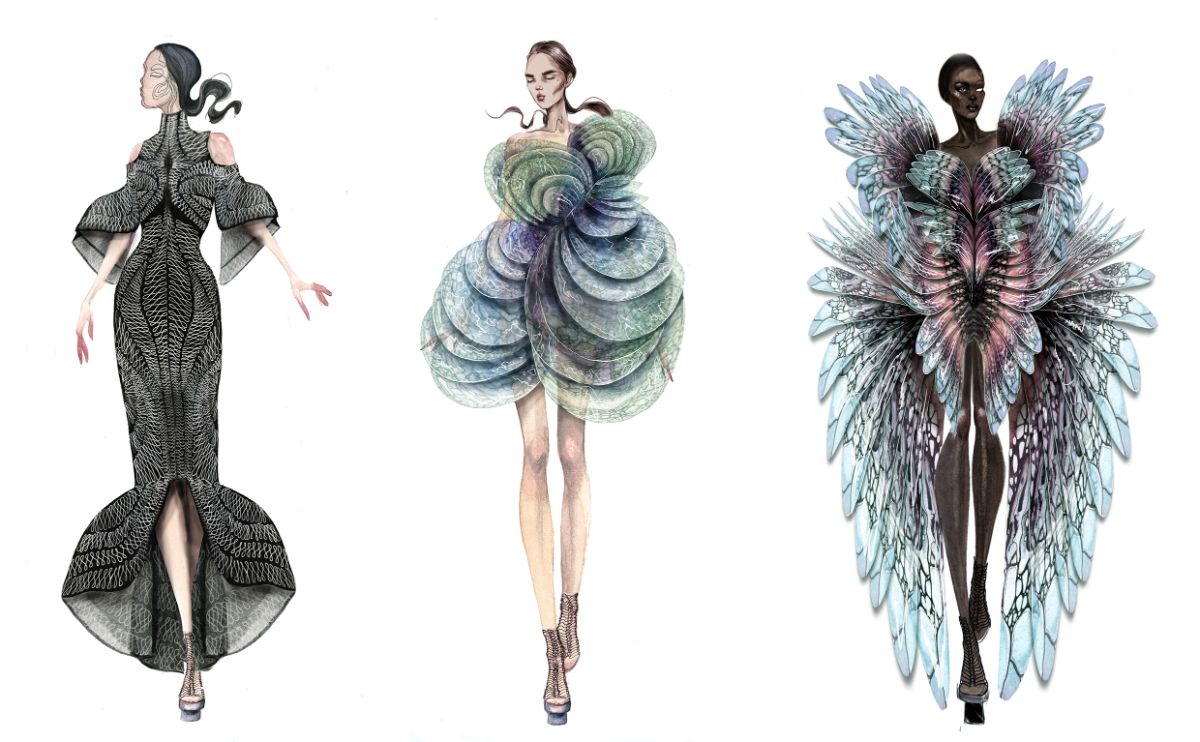 Van Herpen belongs to a rarefied category of creatives such as Neri Oxman, Philip Beesley, Anthony Howe, Studio Drift and Björk who strive to bind inspiration from the greatest engineer of all, Mother Nature, and some of the most advanced tech humans are capable of within their work. Indeed, she has collaborated with all of the above at one time or another, as well as CERN and MIT. Creation of this complexity is not something you can do alone. For her haute couture collections, she uses formed and fused with laser-cutting, 3D-printing and other digital fabrication techniques.
With all this technology it is all the more surprising that van Herpen still produces her initial idea the traditional analogue way, with hand-drawn sketches. Nature with science, by-hand hand-in-hand with robot precision, this is what our futures will be made of and artists such as Iris van Herpen are the ones who are imagining what is possible.