The Beautiful Game
Endeavour
A FOREST IN A FOOTBALL STADIUM
In the early 1970s, the architect Max Peintner drew a dystopian futurist vision of a forest, captured and on display, in a sports stadium. Now, almost 50 years later, the Swiss art interventionist Klaus Littmann has realised that vision in a 32,000-seat football stadium in Kärnten, Austria in a public art action that could not be more timely.
For Forest: The Unending Attraction of Nature is a project that has been long in the making and grandiose in scale. Littmann first saw Peintner's drawing some thirty years ago and was so captivated by the power of the image that he resolved then and there to realise it. "Peintner had the futuristic idea that what has been happening for centuries with animals in zoos could also happen with nature, that we might one day have to come into special places to observe it", says Littmann.
He raised 2.2 million euros of private funding, primarily from his own contacts and art patrons in Switzerland, including the Fondation Beyeler, to fill the Wörthersee Stadium in the town of Klagenfurt with three hundred 30-50-year-old trees from 19 varieties, some up to 15 metres high. Thanks to the considerable skills of landscape architect Enzo Enea, the trees have been planted together in the shape of a very natural-looking segment of European forest. The artwork will remain in the stadium for two months before being relocated in the "wild" on a local plot of land donated by another sponsor. The Basel-based architects Herzog & de Meuron have committed to designing a wooden cabin to go with it to house information and education materials to raise understanding about the true nature and value of natural woodland in this heavily forested region.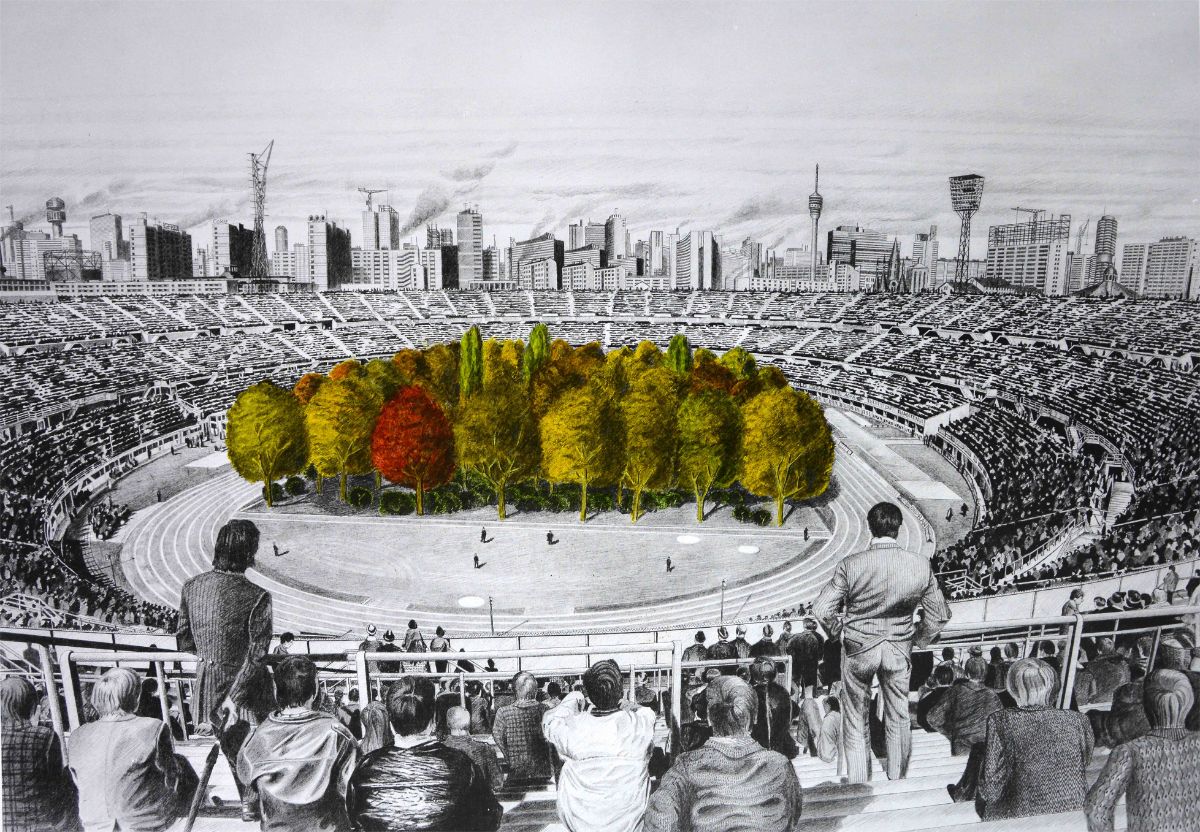 Littmann hopes that the symbolic power of the image of his captured forest will radiate around the world. Entrance to the stadium during the two months of the installation is free for visitors so as many as possible will come to visit. "I want people to stand and look at it and ask themselves: What am I seeing? What does it mean? What is it about?", he says, "I want it to provoke something within them. If that happens then for me is the whole thing a success."
Victor Hugo once wrote that "nothing is more powerful than an idea whose time has come", and the timing could not have been better in this case. In the year where one small Swedish girl's stand on behalf of the environment became a global protest movement. In the summer in which millions of hectares of Amazon rainforest was being wilfully destroyed at an unprecedented rate. When species are becoming extinct at the rate of 200 per day and forest trees all over Europe are assailed by disease, drought and the effects of global warming, this beautiful and poetic artwork is a powerful symbol of the fragility of the natural environment in the face of human destruction. It can also be seen as a hopeful symbol of the strength of human dreams and ingenuity. If we want to save our forests, our planet and, by extension, ourselves, it lies within our collective power to do so.